November 13, 2023
Stocks added to gains last week. The weekly return for the S&P 500 Index was +1.4%, the Dow was +0.7%, and the NASDAQ was +2.9%. The S&P 500 Index was led by the Technology, Communication Services, and Industrial sectors. The Energy, Utility, and Real Estate sectors were the biggest laggards. The 10-year U.S. Treasury note yield increased to 4.628% at Friday's close versus 4.558% the previous week.
There was no significant economic data last week, but Federal Reserve Chairman Jerome Powell, speaking at a meeting of the International Monetary Fund, stated the Fed is committed to a sufficiently restrictive monetary policy stance to bring inflation down to 2%, but he is not confident they are there yet. Based on Fed funds futures, expectations for the Federal Open Market Committee (FOMC) to hold rates steady at the December meeting are currently 85.9%, a decline from 90.2% at this time last week. Important economic data for this week includes the Consumer Price Index (CPI) report on Tuesday and Producer Price Index (PPI) report on Wednesday.
Large retail companies are in focus this week for third quarter earnings. To date, 455 companies in the S&P 500 Index have reported earnings and another 13 companies are scheduled to report this week. S&P 500 Index earnings are expected to grow by 6.3% year-over-year on revenue growth of 1.4%. This is an increase from the 1.6% earnings and 0.8% revenue growth forecasted at the start of the earnings reporting period. For full-year 2023, S&P 500 Index earnings are expected to grow by 2.3% on revenue growth of 2.0%.
In our Dissecting Headlines section, we look at the forecast for Thanksgiving travel.
Financial Market Update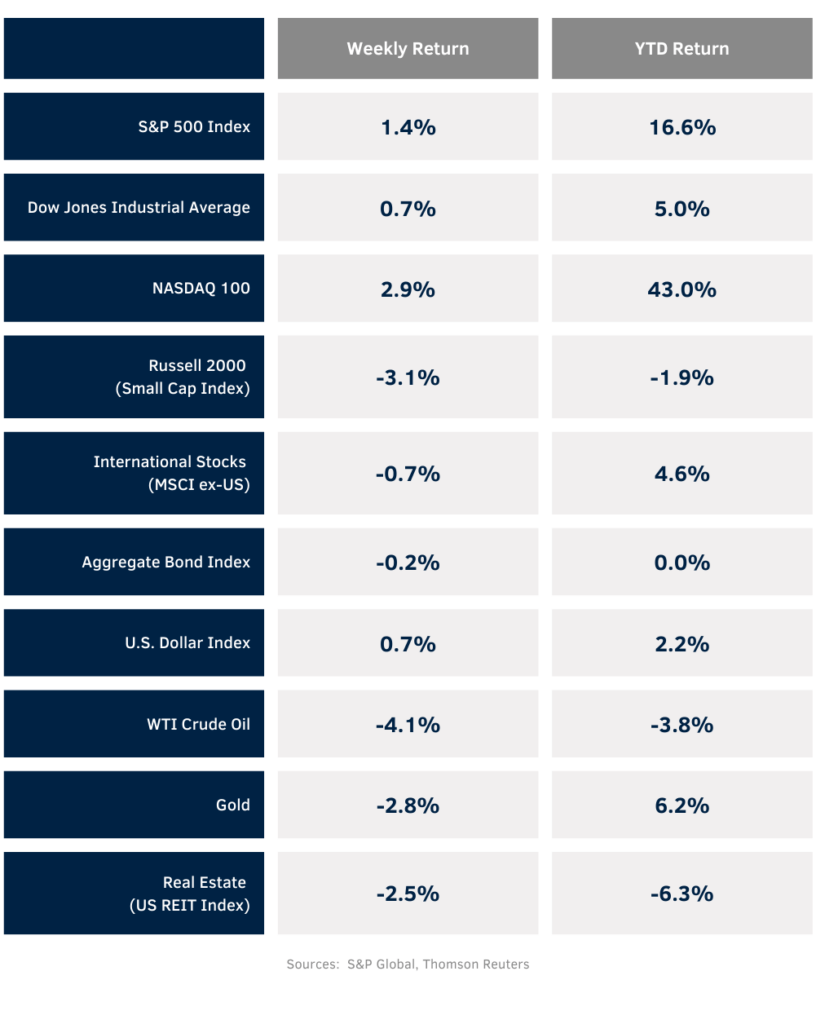 Dissecting Headlines: Thanksgiving Travel Forecast
The American Automobile Association (AAA) projects 55.4 million travelers will head 50 miles or more from home over the Thanksgiving holiday travel period, a 2.3% increase versus 2022. This is the third-highest volume for a Thanksgiving forecast since AAA began tracking holiday travel in 2000. The top two years were 2005 and 2019. Travel for 2023 versus 2019, the pre-pandemic year, is forecast to be 1.1% lower.
Volumes are expected to increase across all major modes of travel. Auto, the largest category, is expected to increase 1.7% year-over-year to 49.13 million travelers. Air travel is expected to increase 6.6% to 4.69 million. All other travel, which includes train, bus, and cruise, is expected to increase 10.9% to 1.55 million.
Annual changes in cost of travel varies. The current average price of regular gasoline nationwide is $3.365 per gallon, down 11% year-over-year. The average price of a domestic flight is 5% higher to $681. The average prices of a hotel stay for the long weekend is 12% lower to $598. Average domestic cruise prices are also lower, down 12% year-over-year to $1,507.
Travel remains a priority for Americans since the end of the pandemic.