Rising bond yields in the U.S. and concern of contagion from a weakening Chinese economy sent stocks lower last week. The weekly return for the S&P 500 Index was -2.1%, the Dow was -2.1%, and the NASDAQ was -2.2%. All sectors in the S&P 500 Index declined. The Technology and Energy sectors declined the least, and the Consumer Discretionary and Real Estate sectors declined the most. The 10-year U.S. Treasury note yield increased to 4.251% at Friday's close versus 4.168% the previous week.
Federal Reserve Chairman Jerome Powell is scheduled to speak at the Kansas City Fed's Economic Symposium at Jackson Hole this coming Friday. His speech will be closely watched for clues of potential Fed policy moves for the September Federal Open Market Committee (FOMC) meeting. Current Fed funds futures point to an 88.5% probability the FOMC will keep interest rates unchanged at the September meeting.
We are in the final stages of the second quarter earnings period with 472 companies in the S&P 500 Index complete. This week, another 12 companies are scheduled to report earnings. Second quarter earnings expectation for the S&P 500 Index is a 3.4% year-over-year earnings decline on a revenue increase of 0.4%. Current consensus for full year 2023 earnings is an increase of 1.8% on revenue growth of 1.9%.
In our Dissecting Headlines section, we look at recent economic concerns in China.
Financial Market Update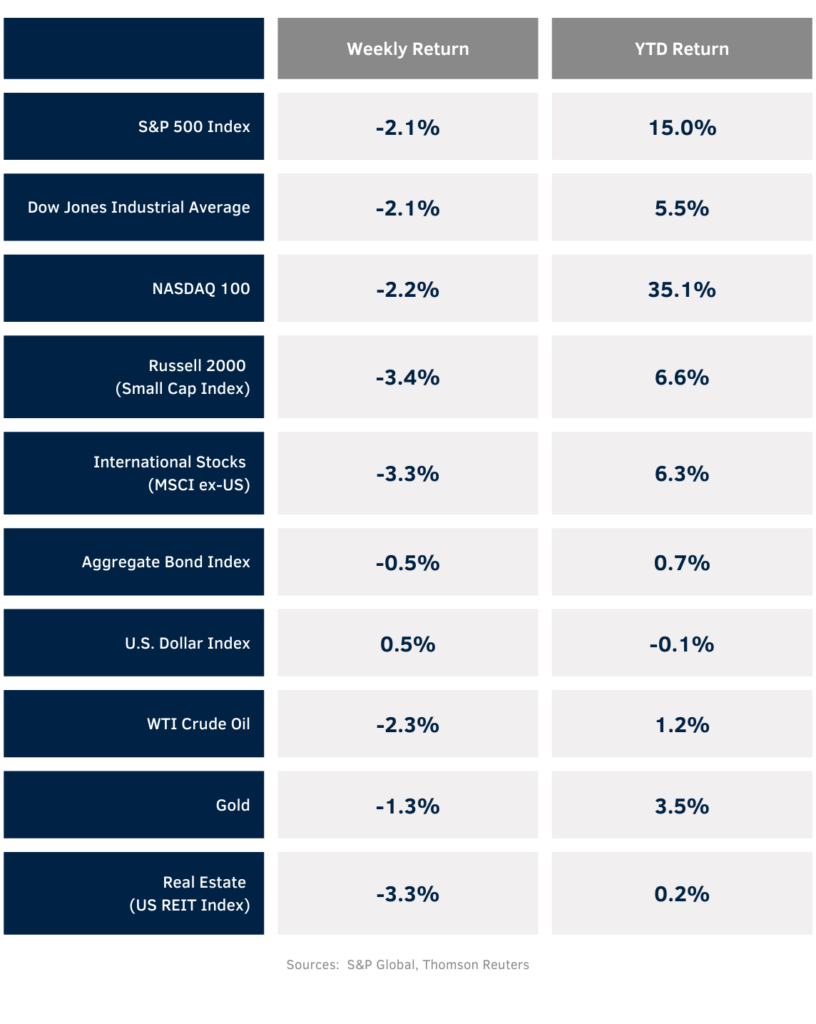 Dissecting Headlines: Chinese Economy
Several data points in the Chinese economy show that it has not seen a strong rebound since lifting its COVID restrictions this past December. Concern of contagion to other countries and the global economy sparked some concern in U.S. equities last week.
Economic reports released last week pointed to China being on pace for its third straight year of sub-5% Gross Domestic Product (GDP) growth. Industrial production and retail sales both fell short of forecasts in July, and exports fell 14.5% year-over-year in July. Earlier this month, China's consumer prices declined 0.3% year-over-year, mainly due to lower food prices, and producer prices declined 4.4% year-over-year. These reports coupled with financial weakness among the country's real estate sector are causing concern. One real estate developer, Country Garden, has missed interest payments on two U.S. Dollar denominated bonds and China Evergrande filed for bankruptcy protection in New York.
Longer-term concerns include China's high youth unemployment, last reported in June at 21.3%, and China's National Bureau of Statistics saying it was omitting the report for July while it reassesses its methodology. China now also has a lower birthrate than Japan and its population shrunk last year for the first time in over 70 years.
China is the second largest economy behind the U.S. and the largest of the BRICS (Brazil/Russia/India/China/South Africa) economies which together make up just over 26% of global GDP and are looking to become more influential on the world stage. Economic struggles in China and Russia's war in Ukraine could deter those aspirations.