September 11, 2023
Stocks declined during the holiday-shorted week. The weekly return for the S&P 500 Index was -1.3%, the Dow was -0.7%, and the NASDAQ was -1.4%. The Energy and Utility sectors posted gains for the week. All other sectors were negative, led by the Industrial, Materials and Technology sectors. The 10-year U.S. Treasury note yield increased to 4.256% at Friday's close versus 4.173% the previous week.
The key economic data for this week are the August Consumer Price Index (CPI) report scheduled for Wednesday and Producer Price Index (PPI) report scheduled for Thursday. These reports on consumer and producer prices are the last major inputs for consideration ahead of the Federal Open Market Committee (FOMC) meeting the following week. The current probability for the FOMC to hold rates steady at the September 20th meeting is 93.0%, consistent with last week.
The G20 summit was held in India. The Group did issue a statement condemning the war in Ukraine, but there was little actionable economic action taken at the summit.
One area of movement last week was crude oil which rose 2.3% as Saudi Arabia announced it is extending its one million barrel per day production cut until the end of December.
In our Dissecting Headlines section, we look at the shift back to Mexico from China as the leading supplier of imports to the United States.
Financial Market Update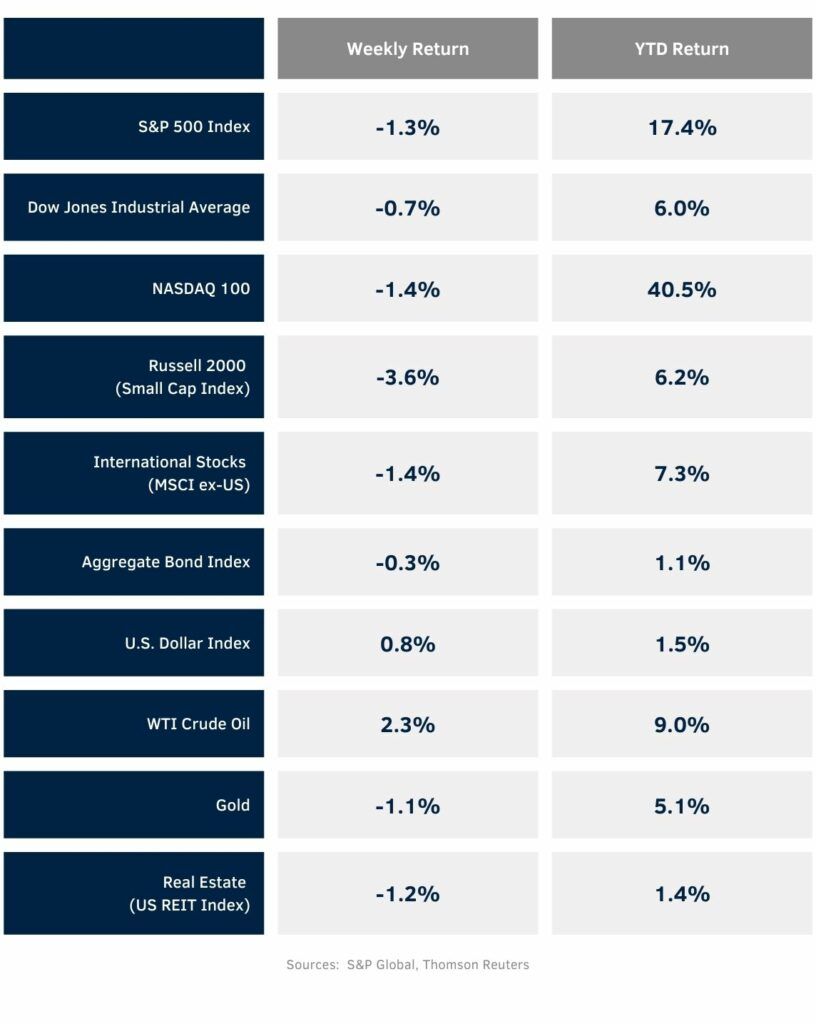 Dissecting Headlines: Mexico
With China's economy currently struggling and political relations with the U.S. tenuous, Mexico has moved ahead of China as the largest source of imports into the U.S.
On a rolling three-month average as of August, Mexico currently provides 16% of the U.S.'s imports versus China's 13% contribution. The U.S. is Mexico's largest export market, accounting for 78% of Mexico's exports. North America as a whole (mainly U.S. and Canada) takes 85% of Mexico's exports, 6% goes to Asia, 5% to Europe and sub-1% each to Africa and Australia/New Zealand.
Major import categories from Mexico to the U.S. include motor vehicles, computers and electrical equipment, machinery, oil, medical devices, plastics, furniture and fixtures, beverages (Mexican Coca-Cola and Modelo!), and fruits and nuts.
The almost half of China's exports are to other Asian countries and Europe takes just over 20% of China's exports. The U.S. represents just under 20% of China's exports (as of 2022) and that has declined year-to-date. Major Chinese categories are electrical machinery, computers and electrical equipment, pharmaceuticals, toys and sporting goods, furniture and fixtures, textiles, vehicles, and various food items.